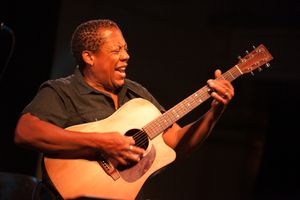 "

Garrick Davis World Blues is: "...guitar-based music rooted in American Blues, augmented by musicians performing on instruments of multicultural origins."
— Garrick Davis
0:00/2:49

0:00/10:22

0:00/6:56

0:00/10:00

0:00/8:45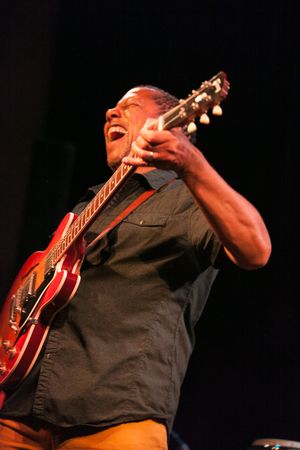 Garrick Davis World Blues Press Kit
Short Bio                                                       Long Bio: Click Here
"Roots, Rock & Passion" describe the music and vibe of independent guitarist/singer/songwriter Garrick Davis who resides in the San Francisco Bay Area. Davis was born in Casper, Wyoming to a former swing band drummer father(Ernest Sr.) and Classically-trained operatic soprano mother, Marie.
"World Blues", by Garrick's own definition, is "guitar-based music fusing American Blues, augmented by multicultural influences whenever possible and speaks lyrically toward the uplift of the human condition."  Hearing a rough mix of a track deemed to be on the "House Full of Friends" live album as well a concert photo taken during that particular song performance inspired the band name.
Garrick has been inspired by artists in the Blues, Rock, Jazz, Folk and Classical genres(at age 3 the toddler declared he wanted to be an orchestra conductor, his "first" favorite music being Prokiev's "Peter & The Wolf"). Garrick has also had a lifelong exposure to Gospel music in the A.M.E. Church to which his parents belonged(his maternal grandfather was an A.M.E. pastor). This would ultimately have a profound influence on his deep-seeded feel and inherently natural expression within Blues and Gospel music  as an artist later in life.
Though agnostic in spiritual belief,  Garrick has been employed in a professional capacity as the guitarist for The St. James A.M.E. Zion Choir in San Mateo as part of an "organ trio" since December 2016.  His position within that space has helped to hone his chops, ear and broaden his understanding of music on the whole.
Davis received his first guitar at age 12, citing Jimi Hendrix, Richie Havens, Jimmy Page(Led Zeppelin), Eric Clapton(Cream), Pink Floyd, The Rolling Stones and Johnny Winter and ZZ Top to be among his earliest influences as a young teen. Davis went on to discover the "sources"of those previously mentioned, including Son House, Bukka White, Robert Johnson, Muddy Waters, BB King, Freddie King, Albert Collins, Curtis Mayfield, Wes Montgomery. He also claims John McLaughlin, Bruce Springsteen, Frank Zappa, Jerry Garcia, Rory Gallagher and Pete Townsend to the list as "more than an afterthought" of inspiration. 
Listening to Davis's songwriting, originals and improvisational style, one can hear and feel the essence of the "Root" artists from which he claims inspiration. In his music there is even a nod to the raw Punk and artful New Wave era of the late '70's-early '80's in the San Francisco heyday of those genres.
Davis, beyond 50 years of music artistry, is curious about and sparked by the music of humanity, the natural and unnatural, the simple and complex, music that uplifts and, or soothes, is rhythmically dense or sparse and is, at times, leaning toward the spiritual - the dark and  the light. These influences that have come together in synthesis to form a singular, "impossible-to-pigeonhole" style can be heard throughout his Discography and  YouTube Videos.
In December 2020 Davis lost his son Zach at age 28. Zach played an essential role of influence upon the elder Davis, having shared musical ideas and songs previously looked over. Zach first broadcast his talents while in his mid teens with the "Expose Your Self" album(2010) and had evolved into a brilliant improvisational artist/musician into his 20's, his tools being piano/synth and his own voice and imagination within "The Fabulous FunkyBand" and later GDWB.  He is missed and is honored everyday by carrying on with his passionate influential love for music being the wind in his father's sails toward future creations.
Garrick Davis has evolved to consistently create, live or recorded, a transcendent musical experience under the moniker of "Garrick Davis World Blues" consisting of compelling songs laced with thoughtful messages brought to full dimension with his dynamic baritone voice anchored by an equally dynamic, present guitar style that is truly his own, yet still familiar. Whether performing solo or with the superb, rather familial musicians he performs with, these qualities deliver music, whether original or covers, that conveys an arresting authenticity characteristic of a deep and open soul.
Since 2001 Davis has independently produced and released  five full length albums and as well as some singles. Davis' fifth album, "A House Full of Friends", that was performed and recorded live, alongside 15 musicians and vocalists from disparate backgrounds, brought together  to make music and subsequently made "magic", lighting the way for a new creative path on which to journey unabashedly.  This creative path, now called Garrick Davis World Blues is working on new material that as a collection will be titled "The Dignity Project".
Press Photos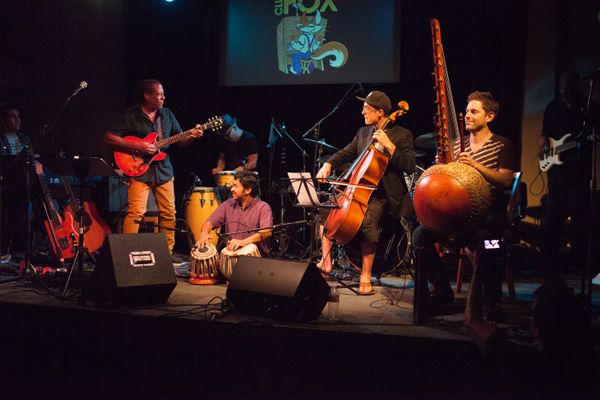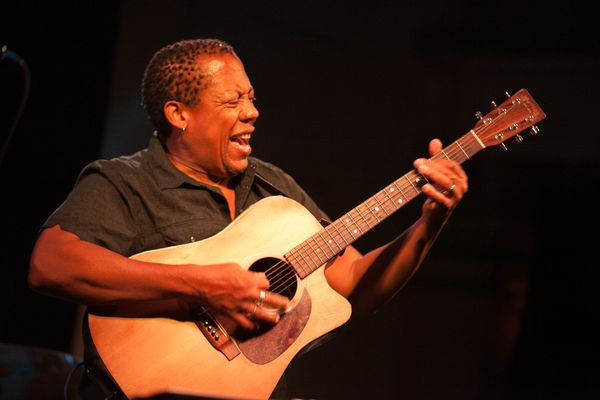 0:00/6:12

0:00/3:10

0:00/5:56

0:00/5:40

0:00/7:27

0:00/11:10

0:00/8:15

0:00/7:10

0:00/10:00

0:00/4:46