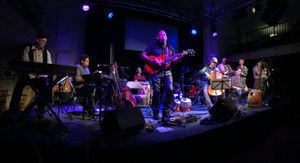 Garrick Davis Academy of Music Performance
Why Live Lessons, Not YouTube? Watch!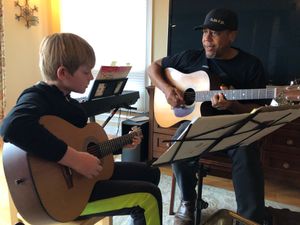 Student Benefits of Working with G.D.A.M.P.: All of my students, young and old, feel like rock stars! Because I make sure each lesson is both fun and enriching. 
___________________________________
Let's set up an Initial Phone Call
Garrick Davis direct phone or text:                 
(650)520-6459                                                                       Email:gad@garrickdavismusic.com
____________________________________
Educational Focus:  I teach my beloved instrument of choice Guitar (electric and acoustic) and merge this, in many cases, with Vocal Coaching. I also have Piano, Drum and Electric Bass Lessons available, conducted by different professional instructors in full association with G.D.M.P.A. working in coordination to prepare students for Performances. Sessions are conducted at the Client's Home. If "In-Home Sessions" are inconvenient for the Client we can make alternative arrangements. Musical styles covered: Blues, Rock, Folk and derivative Roots Music including R&B, Funk, Country and more.
Students will gain a comprehensive understanding of their instrument organized through workbooks corresponding to the level at which they are evaluated when they begin working within the G.D.A.M.P. umbrella.
Students will learn music theory in easy increments and develop ear-training to guide them to learn to figure out songs on their own, create chord charts, learn improvisation, play with other musicians and, ultimately write their own music.
Vision Statement: It is my belief and personal experience that learning an instrument(guitar, in my case) and performing music for family, friends and other audiences inspires connection on many levels. "Music brings people together" is NOT a trivial phrase.
I am on a mission to motivate student clientele to learn an instrument to perform music. The opportunities you will be provided toward that end will be in solo, duo and trio ensemble work on electric or acoustic and, for those that desire the experience, performing with a full-on band of professionals which I, myself, never cease to get a thrill from every time I strap on a guitar and "count-in": 1, 2, 3, 4....
________________________________________________
Of course, to get to the place where a student can perform music, the work  begins in the trenches:
I provide a clear lesson plan complete with goals, achievement levels, and performances. 

I use a song based teaching system so my students are learning songs they love while they get the academic benefits of music. 

I don't overbook myself so student clients get the full benefit of my energy. 

Music lessons have other great benefits like: Better grades, higher self esteem, more confidence, and good social skills. I've seen this proven over and over, and I know that I'm teaching so much more than music. 

I'm exclusive. I have an incredibly high success rate because I only work with students that are truly excited about music. 

I'm currently accepting new students, but am most interested in potential students who have a desire to play and an understanding that it's a "process". 

My rates range from $240.00 to $640.00 Monthly(four sessions in month period. 

Contact Garrick: Phone - (650)520-6459 or Email - gad@garrickdavismusic.com
_________________________________________________
Let's set up an Initial Phone Call and get you on the road to Performing Songs and Understanding the Great Language of MUSIC!!
Garrick Davis direct: (650)520-6459                           Email: gad@garrickdavismusic.com
__________________________________________________
Client Reviews
Great Teacher! Garrick is a true professional. He has a way with my son that makes him want to practice! ~ Jessica Z.                                                                                                                                                                                      Cool  Very prompt, accommodating and ambitious. ~Cameron                                                                                                                                                                                                  Five Stars  Garrick is very professional and knows what's the best practice for your skill level, and gives super helpful tips here and there. But what was impressive to me was how he was so passionate about his music. Just watching him demo makes me want to practice harder and get better and enjoy playing just as much as he does. I highly recommend Garrick if you want to get better at playing guitar and have a lot of fun! ~ Ian C.                                                                                                                                                                                  Five Stars Could not be more satisfied. He's passionate about what he does, and it shows. He won't quit until your form is flawless. Also an amazing person to collaborate with creatively. His personality is supportive, not overpowering. I wouldn't hesitate to schedule your next lesson with Garrick.                           ~ Austin T.                                                                                                                                                                                          Five Stars I have been playing guitar probably longer than Garrick's been alive. I have taken lessons over the course of time and am having a wonderful time exploring a new way to view my musical journey. Garrick is very supportive and has a viewpoint that inspires me to let out what lies dormant inside. Garrick has a wide and diversified approach to his teaching and tailors it to the student he is with.                ~ Barry S.
________________________________________________
G.D.M.P.A. Policies: Same Day Cancellation Policy: 24 hour notice is required to avoid paying for a same day cancellation. Under 18 Policy: If the student is under 18 years old, it is my policy, that an adult be present at the lesson location for the entire lesson duration.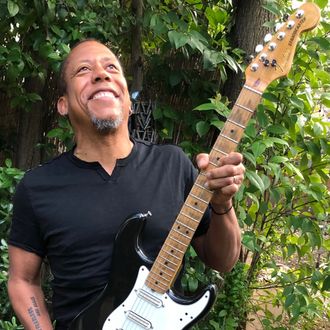 Garrick Davis
President, CEO, Artist
A man with a vision to share and inspire others in the realm of Music Performance.
Student Performance Videos Over the Years