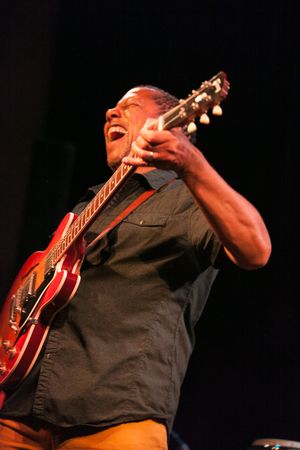 Bio
 "Songs of wisdom, songs of dues paying, songs of experience, and ultimately, songs of winning the struggle." ~Suzanne Glass of Indie-Music.com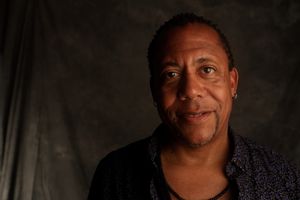 Garrick Davis World Blues - Long Bio
"Roots, Rock & Passion" describe the music and vibe of independent guitarist/singer/songwriter Garrick Davis who resides in the San Francisco Bay Area. Davis was born in Casper, Wyoming to a former swing band drummer father, Ernest Sr. and classically-trained operatic soprano mother, Marie.
"Garrick Davis World Blues", by his own definition, is "guitar-based music rooted in American Blues, augmented by the music, instruments and people of multicultural origins."  Hearing a rough mix of a track deemed to be on the "House Full of Friends" live album as well a concert photo taken during that particular song performance inspired the band name.
Garrick has been inspired by artists in the Blues, Rock, Jazz, Folk and even Classical genres(at age 3 the toddler declared he wanted to be an orchestra conductor, his "first" favorite music being Prokiev's "Peter & The Wolf"). Garrick has also had a lifelong exposure to Gospel music in the A.M.E. Church to which his parents belonged(his maternal grandfather, James O. Minor, was an A.M.E. pastor). This foundational experience would ultimately have a profound influence on his decidely spiritual, though secular, expression as an artist.
Driven by the early exposure and a natural fascination for the medium, Garrick has developed an appreciation for the music of many cultures as being of a common language.  Davis has been writing original music since age 14, though touched by the "muse" of music creation beginning 10 years earlier as a piano student, later playing string bass in the school orchestra(likely because he was a tall child) and finally being accepted at 10 years old into the prestigious Colorado Children's Choir with whom he performed with for one year, a stint that included a headline performance at the famed Red Rocks Amphitheater in Colorado Springs, Colorado among other productions.
Davis received his first guitar at age 12, citing Jimi Hendrix, Richie Havens, Jimmy Page(Led Zeppelin), Eric Clapton(Cream), Pink Floyd, The Rolling Stones and Johnny Winter and ZZ Top to be among his earliest influences as a young teen, with Hendrix being the most influential, especially because of his songwriting. Into his adulthood, Davis went on to discover the "sources"of those previously mentioned, including Son House, Bukka White, Robert Johnson, Muddy Waters, BB King, Freddie King, Albert Collins, Curtis Mayfield, Wes Montgomery. He also claims John McLaughlin, Bruce Springsteen, Frank Zappa, Jerry Garcia, Rory Gallagher and Pete Townsend to the list as "more than an afterthought" of inspiration. 
Listening to Davis's songwriting, originals and improvisational style, one can hear and feel the essence of the "Root" artists from which he claims inspiration. In his music there is even a nod to the raw Punk and artful New Wave era of the late '70's-early '80's in the San Francisco heyday of those genres.
Davis is curious about and sparked by the music of humanity, the natural and unnatural, the simple and complex, music that uplifts or soothes, is rhythmically dense and is, at times, leaning toward the spiritual - the dark and  the light. These influences that have come together in synthesis to form a singular, "impossible-to-pigeonhole" style can be heard throughout his Discography and  YouTube Videos.
Garrick as a charismatic performing artist and bandleader has evolved to create a transcendent musical experience consisting of compelling songs laced with thoughtful messages that are brought to full dimension with his dynamic baritone voice and anchored by an equally dynamic driving melodic guitar style that is truly his own, yet still familiar. Whether performing solo or with the superb, rather familial musicians he performs with, these qualities deliver music, whether original or written by others, that conveys an arresting authenticity characteristic of deep and open souls. 
A certified "late bloomer", and as the father of a "then-young" son, Zach(who plays piano and synth in World Blues), Davis's first marriage ended mutually and some months later quit his secure but admittedly dreadful 21 year career as a grocery clerk at age 41. He first took on job selling organizational spaces, then worked in the restaurant industry as a server in a few different restaurants, working up from a breakfast and lunch establishment to fine dining as Spago, but quit because of the lack of a steady schedule. He sold meat off a truck for a brief time, selling frozen meat, seafood and poultry door to door throughout the larger Bay Area region.
The skills learned about door-to-door cold call selling inspired Garrick to stop selling meat, something he didn't believe in, to selling his "Glass Half Full" CD door to door all over the Bay Area, which was something he did believe in. After doing this for a few months with positive success, guitar instruction opportunities started springing up. Teaching private guitar lessons has been a major portion of income since 2004. That job has also expanded his musical abilities and understanding of music theory and general knowledge of the instrument he has played for nearly fifty years now. It isn't, however, enough to sustain life in the Bay Area as it is now, which is why he's focused on growing the business side of his skills as a bandleader and most important to his heart, songwriting.
Garrick has worked through years of local, national and international live experience after the release of his debut "Glass Half Full"(2001), followed by "The Show"(2005), a live album, "Expose Your Self"(2011), a body of work he calls his "Impressionistic Masterpiece" which took 3-1/2 years to create, learning to engineer and mix along the way, all on his 13" Black MacBook. Finally, "The Good Road"(2013), an all acoustic album recorded over two weekends in a studio in Spring 2011 after Garrick's first European tour earlier that Winter.
March 30, 2018 marks the release date of Davis' fifth album, "A House Full of Friends", that was performed and recorded live, bolstered by 15 musicians and vocalists from disparate backgrounds, brought together  to make music and subsequently made "magic", lighting the way for a new creative path on which to journey unabashedly.
The deft circle of Garrick Davis World Blues musicians include: Zach Davis-Price(piano,synth,vocals), Grant"Slam"Walthall(drums), AJ Joyce(bass),  Tony Stead(organ), Leah Tysse(vocals), D.Edward(percussion) and Tanmay Bichu(tabla).  Guests musicians include "Cello Joe Chang(cello), Jeff Chambers(acoustic bass), Tom Poole(trumpet), Daniel Berkman(kora, handsonic drum), Nehal Abuelata(vocals), Tammi Brown(vocals) and Mike Rinta(Trombone), Keenan Webster(kora).
After witnessing the illnesses and passing of both his older sister Beverly in 2015 and his father Ernest Sr. the following year, Davis is poised and focused to break new ground, understanding the speed at which time is passing with clarity and, once again, feeling his insides burning to make an impact in the world and a difference to his circle of musicians, supporters and those who will come to appreciate the authentic spirit that can be witnessed onstage, as well as in conversation one-on-one.
Join Garrick Davis World Blues on a noteworthy journey to give the world music empowered by love, rainbows of emotion and founded in the deepest of truths.
###
Contact Garrick Davis for interviews, booking at gad@garrickdavismusic.com. Go to GarrickDavisMusic.com for discography or to sign up to his Email List