The Zach Fest 4/2/2022: Tickets!
The Zach Fest Memorial Concert & 30th Birthday Celebration
A House Full of Friends
Garrick Davis World Blues
0:00/6:12

0:00/3:10

0:00/5:56

0:00/5:40

0:00/7:27

0:00/11:10

0:00/8:15

0:00/6:01

0:00/7:10

0:00/10:00

0:00/4:46
"World Blues" - Acoustic Live: At The Freight
Acoustic Live: At The Freight
Garrick Davis World Blues
"Acoustic Live: At The Freight" is a 2-track recorded production of Garrick Davis World Blues acoustic set performed for the John Lee Hooker Foundation Benefit Concert which took place at Freight & Salvage Coffeehouse in Berkeley, CA. on June 14, 2019.
I have been been involved within the organization by way of working with the students in the music program at Eastside College Prep in East Palo Alto, CA. Many of the students I am blessed to work with opened this star-studded multi-act show as an ensemble, I was proud to witness.
Following the high schoolers, I was joined yet again by the masterful young tabla drum player Tanmay Bichu who I began working with in 2016. Tanmay has performed with me in different lineups of the World Blues configurations, including the full 8-piece as well as appearing on the "House Full of Friends"(2018) live album.
In this simple setting of guitar and tabla(often with piano) is where the combination really shines as you will hear for yourself. Thanks to Lou Judson for releasing this recording to me so I can bring it to the public. It is very clear, dynamic and punchy!
I look forward to recording a full album with him someday, which will display more of the improvisation wonderment that comes out when given the time and space.
As in keeping with the spirit of the "benefit event", the John Lee Hooker Foundation will receive 10% from the sales of this production for the first year (8/22/20).
Read more…
close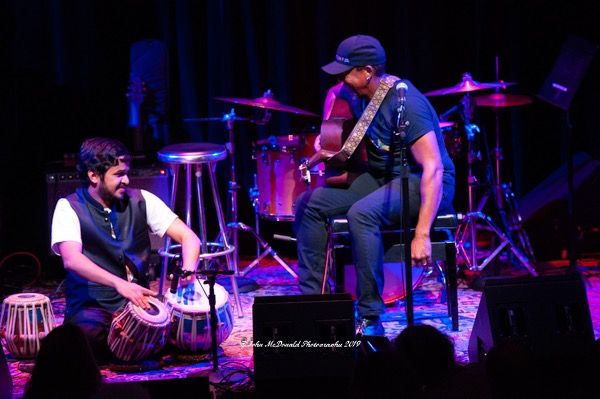 Come Together - Live (Single)
Artist's Choice Track
The current "Artist's Choice" and the photo that was taken during the performance was the direct inspiration for naming  this styler of music "World Blues". Enjoy the adventure!